Get the Book.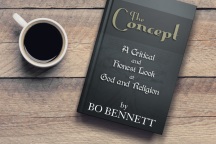 Get the book, The Concept by Bo Bennett, by selecting one of the following options:
---
If you spent your life assuming "God" was the answer to all of life's biggest questions, but can no longer believe, you might have many questions that begin with the phrase, "If there is no God..." If there is no God, how did we get here? If there is no God, what's the point of life? If there is no God, where does our morality come from"? If there is no God, won't the world collapse in anarchy with murdering, coveting thy neighbor's wife, and eating shellfish? These are just some of the common questions to which there are good answers. These courses will help you build a strong foundational secular worldview based in science and reason.
Have a podcast or know someone who does? Putting on a conference? Dr. Bennett is available for interviews and public speaking events. Contact him directly here.